One key feature at IST2020 was the introduction of the role of Conference Ambassadors
They were in charge of harvesting key take-aways and reporting on the various parallel sessions. Moreover, Conference Ambassadors offered valuable inputs from the perspective of young researchers and their generation and functioned as "ice-breakers" in online discussions, thus contributing greatly to the success of the online-conference.
Our team of 13 Conference Ambassadors consisted of master's students and graduates from a broad range of disciplines including geography, urban planning, ecological economics and socio-economics. Overall, the Conference Ambassadors produced 12 reports on key sessions of the conference, three visual recordings of the keynote speeches and two videos with interviews of IST2020 participants about their experiences with the conference. Last but not least, they authored and illustrated a brochure that introduces international sustainability transitions research from the perspectives of conference ambassadors.
---
Video interviews with IST2020 participants
Produced by our Conference Ambassadors
---
Brochure: IST2020 – The perspective of Conference Ambassdors
Find an illustrated introduction to sustainability transitions research from the perspective of our Conference Ambassadors.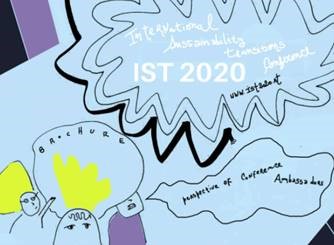 Download IST2020 Brochure (pdf) by Conference Ambassadors
---
Visual recordings of keynote speeches at IST2020 (by Mili Hurtig)
Visual Recording of Ann Pettifor's keynote on a Green New Deal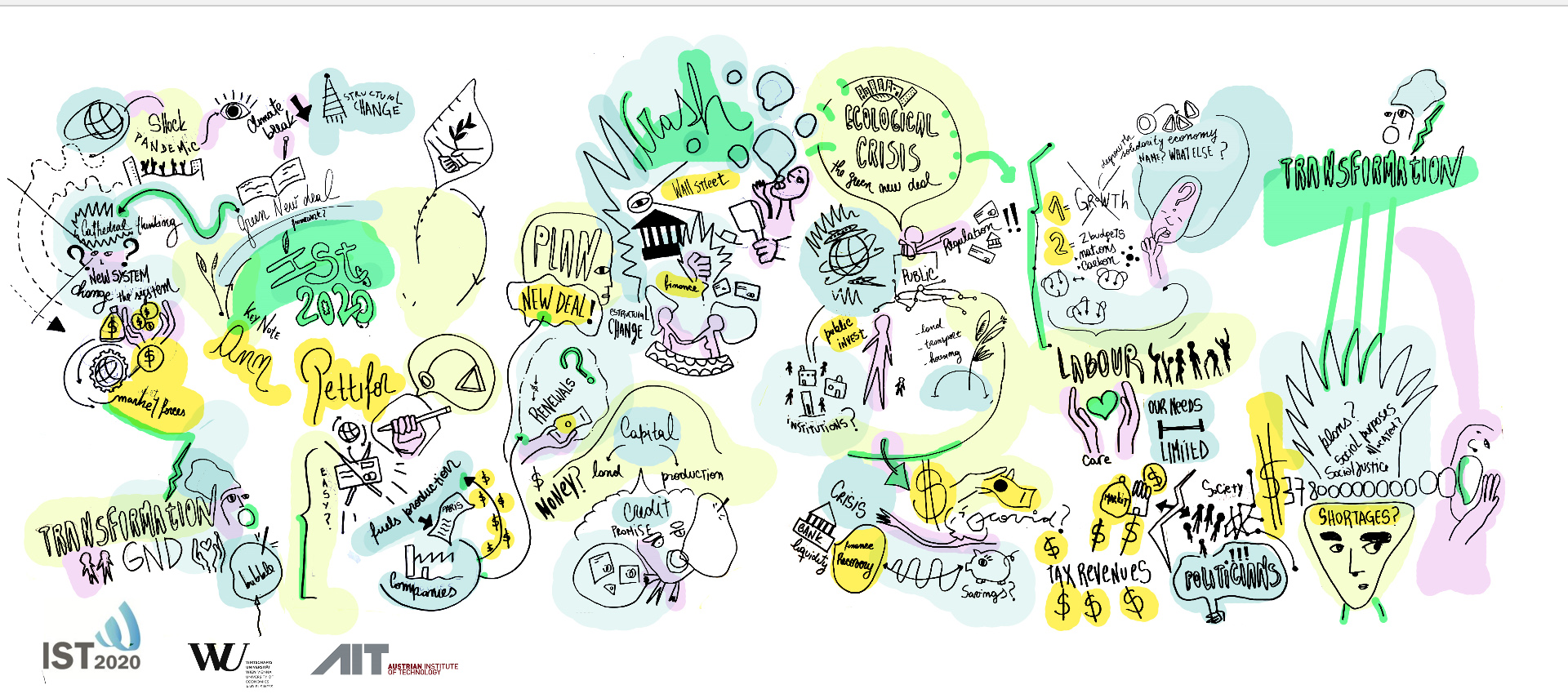 Visual Recording of Koen Frenken's keynote on the rise of the platform economy.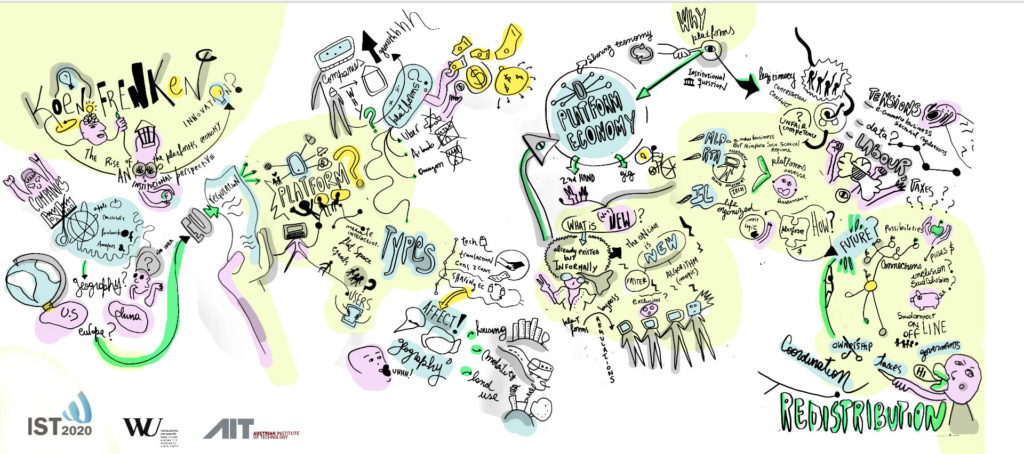 Karoline Rogge's keynote on transformative climate policy mixes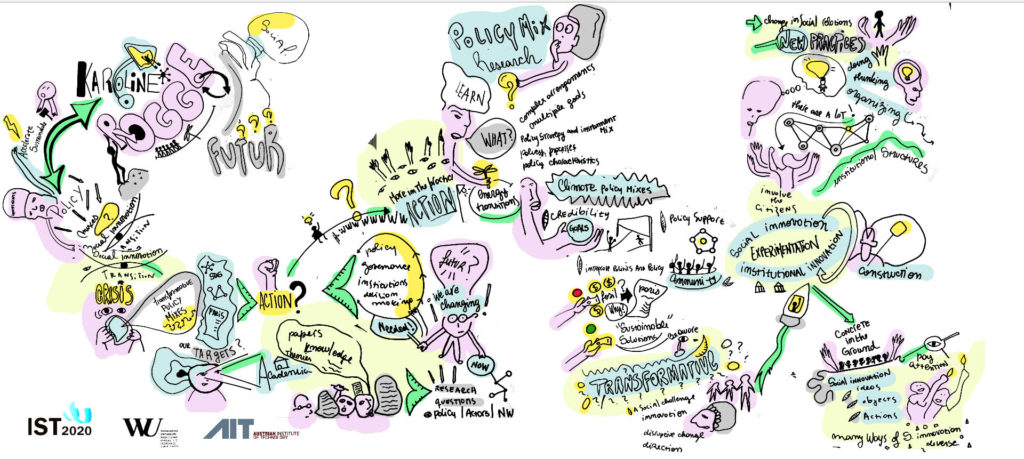 ---
Reports on key sessions of the IST2020
Climate Emergency Movement: An intensified Dialogue on Climate Change (Helia Nazari)
Smart City Vienna (Merle Schulken)
Working with Indigenous Knowledge through a Sustainability Transitions Lens (Belen Iturralde)
Structural Conditions for Transformative Climate Policy and Climate Friendly Living (Mark de Hoop)
Sustainability Transitions in energy-related Industries: Many Pioneers – but where are the Followers? (Andrea Vogler)
Ann Pettifor's Case for a Green New Deal (Colleen Schneider)
Just Transition – Fairness in Climate Protection: A Union Perspective (Inés Tijera)
Social Housing, where are you headed? (Livia Regen)
What can we learn for Transformative Climate Policy Mixes from Transitions Research? Keynote by Karoline Rogge. (Mara Weiß)
Urban Living Labs as a Way to re-think the City (Javier Delgado)
Urban Transformations and Transitions – UTT Track (Marina Comojo)
The Rise of the Platform Economy – Keynote by Koen Frenken (Simon Werner)